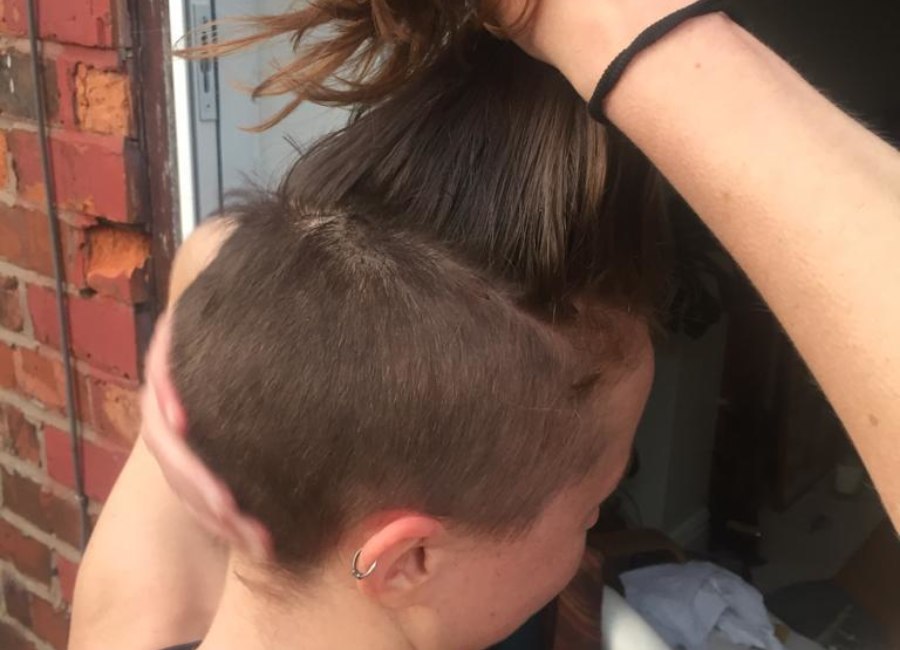 Medical student's hair-raising idea raises hundreds for hospice after lockdown locks shave
A medical student raised £855 for South Bucks Hospice in memory of her cousin - by having her hair shaved away by her housemate during lockdown.
Elle Stott, 26, who is due to become a junior doctor in August, had her shoulder-length dark blonde locks cut by friend Katherine McBeath, a nurse, in the garden of their home.

"Katherine isn't a hairdresser, but it seemed an easy thing to do during lockdown when people need reminding that hospices are carrying on as normal but are losing out on funding along with other charities," she said.

"We had the razors, but didn't have a charger for them and were hoping they didn't run out of battery before the hair was gone and that I wasn't left with a mullet! Happily, it worked out really well and she did a very good job. She gave me a number two haircut and it's quite freeing to have such short hair."

Elle had aimed to raise £150 but was stunned when this figure rose to close to £1,000 after donations flooded in.

She chose South Bucks Hospice because the charity had helped her cousin Sean Crossey.

Sean, from High Wycombe, died in September 2018 from a brain tumour but Elle never forgot how grateful he had been for the help given to him by the hospice, based at Butterfly House.

Elle, from Warwickshire, added: "Sean always said Butterfly House was so useful to him and that he would never have got the support he received without it. I hadn't done much fundraising before and was amazed at how people responded. It felt really good and I would definitely like to fundraise again in the future."

Jackie Ward, Acting Chief Executive Officer at South Bucks Hospice, said: "We are so grateful to Elle and her friends for doing this for us. The hospice building is currently closed but we are helping dozens of people currently by providing counselling and nursing support over the telephone.

"When lockdown ends, we know there will be a massive demand for our services, but fundraising has dried up as a result of events being cancelled and our shops having to temporarily close. Government funding only accounts for a tiny part of our revenues so we really rely on the fundraising exploits from people such as Elle and are delighted that she could do such a great thing for us while honouring the memory of her cousin."

To help South Bucks Hospice continue helping patients and their families, email fundraising@sbhospice.org.uk or, if you are a business who wants to support the charity, contact jackie.ward@sbhospice.org.uk