Fundraising for a hospice gave me a purpose when grief made things so hard for me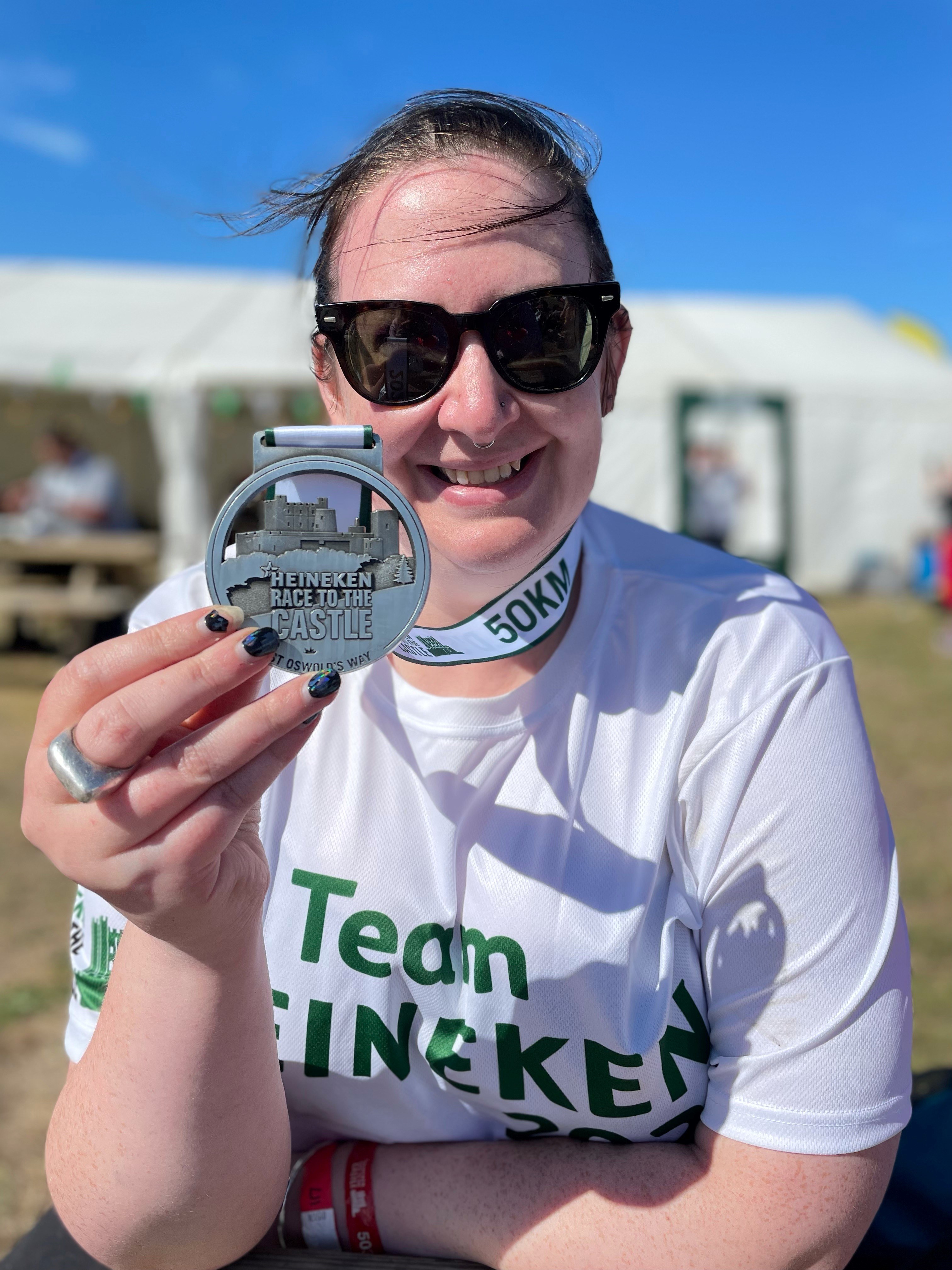 Hi, my name is Laura Dilley and I am a 39-year-old project analyst originally from Gerrards Cross, but now living in Leeds.
Last year, I decided to embark on an epic 50km hike to raise money for South Bucks Hospice who supported my dad, Keith, following his cancer diagnosis in 2019.
The day hospice really looked after dad so well, treating him as a person with dignity and care. He really got involved in the group activities and was given lots of support and advice before he passed away aged 74 in April 2020.
Over the last few years, I've taken part in several long-distance walks that have been sponsored by my employer, Heineken UK. These walks have been a great opportunity to get fit, meet new people and raise money for charity, so when the time came for 2021's event, I knew straight away that I wanted to raise money for the hospice in recognition of its support for dad.
The challenge was 'Race To The Castle' – a 50km hike in the beautiful surroundings of the North East of England, from stretching moorland to winding rivers, ancient woodlands and a magnificent finish at Bamburgh Castle.
After weeks of training (and maybe a few too many rest days) and with over £1000 of sponsorship to spur me on, the weekend of the hike had finally arrived. Day 1 was really challenging with soggy weather, lots of mud underfoot and some unwelcome knee pain so I was much slower than I had hoped but I made the 16-mile course and managed a sprint finish over the line. It was followed by a night in a tent at the event village – a cold and wet one (thankfully with hot showers) but a great atmosphere and the chance to meet a lot of other people raising money for good causes.
Day 2 started with a 5am alarm call, a few stretches, and a bacon butty to set me up for the next 15-mile stint. Having spent the first day walking through fields and woodland in the rain, day two couldn't have been more of a contrast. The Northumberland coastline was absolutely stunning to walk along, and the sun was high in the sky. I made a great time (for me anyway) and had another sprint over the line. I didn't realise until I finished that it was actually 31 miles that I hiked.
Crossing the finishing line was really emotional – all I wanted to do was call my dad and tell him that I'd done it. He was always one of my biggest cheerleaders and I know he would have been really proud of me.
After I shared my photo from the finishing line across social media, I got another flurry of donations to my sponsorship page and ended up with over £2200 – not bad for an event that I wanted to take part in anyway! Half of this went to the Hospice, with the rest going to another charity I supported.
The fundraising team at the hospice were also a great support – they checked on me before the walk, sent me a song to add to my playlist (weirdly it happened to be a Bruce Springsteen track, dad's favourite, so I think he had a hand in that…) and they got in touch again afterwards to congratulate me. You don't take on events like this for the thanks but knowing that the team were backing me was so encouraging.
I also found that the training and the walk itself gave me a lot of time and headspace to think about my dad and really give me purpose at a time when grief made things really hard for me.
It still doesn't feel like enough after everything that the hospice did for dad, but I take comfort in knowing that it has helped another family to receive the support that we did.
Laura advises the following for others embarking on fundraising challenges: "Don't forget to add Gift Aid and check if your employer will match your fundraising efforts – I was able to add another few hundred pounds thanks to this and all it took was one extra email."
If this story has inspired you to get signed up for a walk, a sky dive or even a head shave to help support us, contact fundraising@sbhospice.org.uk