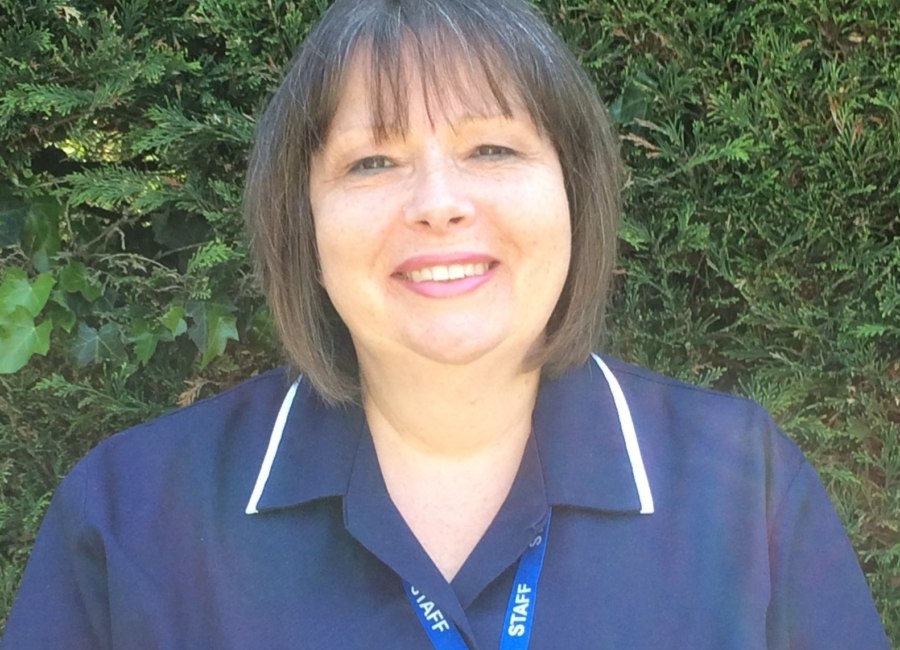 Vulnerable people are given vital support by South Bucks Hospice during lockdown
A group of staff and volunteers from South Bucks Hospice are working from home to ensure vulnerable people are still being given the care they need during the lockdown.
The charity, based in High Wycombe, had to temporarily close its building and shops at the end of March as a result of the Coronavirus outbreak - but the vital work of the day hospice is still continuing.
Staff nurse Karen Turner is currently supporting 43 patients on the telephone from her family home in Thame.
Karen, who was with the NHS for 38 years before retiring last June, provides crucial help for patients with life-limiting or life-threatening conditions who are isolated and unable to go to the GP surgery or pharmacist.
"Many of the patients have complex nursing and medical needs and are cared for by different health and social care professionals," she explained.
"In my supporting role, I am able to identify new problems patients may face when self-isolating such as difficulty in obtaining crucial medication, accessing healthcare professional services and grocery shopping. I have been able to liaise with many GPs, district nurses, care agencies, palliative care teams, pharmacies and neighbourhood schemes to help resolve these difficulties that South Bucks Hospice patients have had."
Some of the problems are hugely challenging, particularly when patients are unable to get out to pick up essential medicines.
"Previously a loved one would go for them. But now they have to self-isolate, it's been very tricky when they need to get a delivery," said Karen. "Trying to get everybody together is quite difficult."
But Karen's reward is the response from the patients.
"They are just so grateful," she said. "Some of them are on their own isolating, either cancer patients or ones with life-limiting conditions, so there is just absolute relief on their part when they see me taking the responsibility for doing something for them.
"For example, I had a patient last week running out of medication and nobody could pick it up from the pharmacy. I managed to get a neighbourhood scheme to collect it and the patient was oh so grateful because it had been in the chemist for over a week."
Meanwhile, a group of eight qualified counsellors, many of them volunteers, is offering vital support to almost 40 people over the telephone.
They are led by Juliette Coffey, Head of Individual and Family Support at South Bucks Hospice.
She said: "Whilst Covid-19 has challenged our ability to get into the hospice building and physically open our doors, the counselling team is still working hard from home to provide telephone support. We have 38 people who we are currently engaging with and further referrals have also been coming in.
"Anxiety levels are naturally even higher than usual for those living with underlying health conditions and those worried about the dangers of going out to attend hospital appointments and receive ongoing treatment.
"Recently bereaved people are struggling with the loneliness and silence of increased isolation, and those who have lost loved ones to Covid-19 have a painful journey in processing the complex circumstances that we are all seeing in the news everyday."
All the telephone services offered by the hospice are free, even though the charity has lost much of its traditional funding as a result of its shops being closed and several major events being cancelled. Several staff have had to go on furlough.
But Juliette says the work from the team's various homes has proved tremendously rewarding.
She said: "People using our services are so grateful to have somebody they can talk to.
"We are very pleased we can help at a time when the country is in lockdown – it is a privilege to still be working. To gain the trust of people when they are going through a difficult time is one of the greatest honours we can have in this lifetime."
David Ellis OBE, Chairman of Trustees at South Bucks Hospice, said: "We are so proud of our staff who are working from home and providing such a vital service for so many vulnerable people. However, we are concerned about the lack of funding currently coming in and we appeal to the community and businesses to see if they can spare any money to assist us.
"Only a very small part of our income comes from Government, but we are confident that when we re-open after lockdown, we will be inundated with people relying on our services."
• To help South Bucks Hospice continue helping patients and their families, email fundraising@sbhospice.org.uk or, if you are a business who wants to support the charity, contact jackie.ward@sbhospice.org.uk