Shocked pupils were left gasping with excitement on their first day of term – when they found a huge suit of armour standing guard in their history room.
The six-foot tall suit was bought by Davenies School in Beaconsfield in a silent auction arranged by South Bucks Hospice.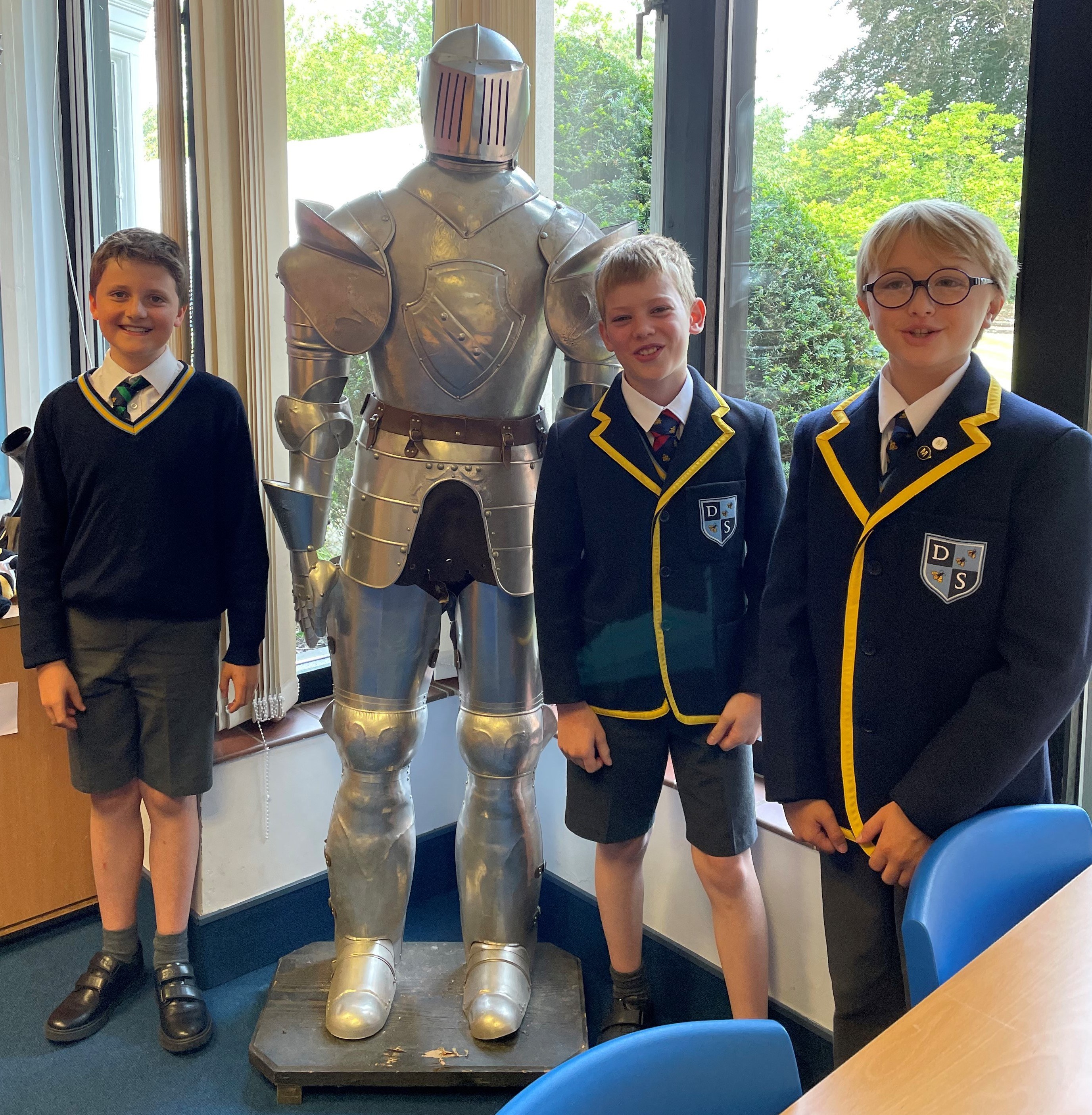 It had been handed in recently to the hospice's re-use shop at High Heavens recycling centre in High Wycombe, which is run in partnership with Buckinghamshire Council and FCC Environment.

Sam Fryer, Head of History and Head of Activities at Davenies, posted the winning bid of £300 on behalf of his school when he saw the auction advertised online. Davenies is a preparatory school for boys aged 4 to 13 in Beaconsfield.

Mr Fryer said: "We thought it would be a wonderful artefact and addition to our history department. Having a suit of armour on display as soon as the boys walk into the history room really engages and inspires the boys and will want to make them challenge themselves.

"It's all about bringing the subject to life and the love of learning. In addition, as a school we have raised some money in the past for South Bucks Hospice so it's wonderful for us to give some more money in the silent auction to this charity."

The background to the donation, which originally was made at Burnham Recycling Centre and then passed on to High Heavens, is still somewhat of a mystery. Now teachers are researching whether it is a genuine suit of armour or a display piece.

But Mr Fryer added: "It doesn't really matter, because either way the boys absolutely love it – their reaction was priceless when they walked in and saw it. They gasped with excitement because it captured their imagination.

"We are now going to run a competition across the school to name the suit of armour."

Mr Fryer was particularly keen to help raise funds for South Bucks Hospice because the charity supported him. "I had a really close loved one battling with disease – and they helped me. They were wonderful."

He believes the suit of armour – which can also be seen by people walking past the Headmaster's lawn – is a unique artefact for a school.

"We have a few Roman helmets and some chain mail but this is really our pride and joy now," he said.

Jackie Ward, Chief Executive for South Bucks Hospice, said: "I am so grateful to Davenies for this magnificent financial donation which will help fund the services which support people with life-limiting conditions.

"I am also very pleased that this precious suit of armour has found such a good home. This is a fantastic example of how people can make a genuine difference by donating unwanted items to re-use rather than throwing them away."

For more information on re-use, visit https://www.buckinghamshire.gov.uk/bin-collection-recycling-and-waste/