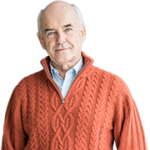 patient experiences
Malcolm
Cancer patient Malcolm Flisher believes The South Buckinghamshire Community Hospice helped to save his life after depression made him want to end it all.
Malcolm, now 61, from Stokenchurch, was in the depths of despair after learning he had Hodgkin's Lymphoma.

"I had a real downer during my second course of chemotherapy, so much so that I wanted to try to do myself in," he said. "I phoned my wife and said 'that's it, I won't be back' and drove myself off in my car.
 "I spent all day in my car sitting around in places where there was nobody else. I don't know where I went, but it was about 100 miles away. It was like I was in a fog – it was really serious depression."
Malcolm's wife called police who intercepted him as he drove back towards Stokenchurch and returned him to his home.
"But I was still lost and we knew I had to do something," he said.
Malcolm contacted Macmillan Cancer Support and was given counselling by a nurse, who suggested he should go to a hospice, even though his condition was treatable.
"I was a bit taken aback because a hospice to me at that time meant death and the end, and when I first came to The South Bucks Community Hospice for a day a week, I thought I wouldn't like it."
But Malcolm's outlook was transformed as he began chatting with his fellow patients and making new friends who were able to empathise with his condition.
"No one else can understand what you are going through," he said.
"I slowly began to realise that what I had wasn't as bad as what some of them had gone through. If you come here and feel down, there is always somebody here who has had a worse time."
Now four years on, the retired engineer is in remission and clear of the cancer, but still attends the Hospice twice a week. He enjoys music therapy, meditation, socialising, games and drinking endless cups of tea.
He also suffers from serious heart and vascular problems but is upbeat about the future.
"If you feel a bit down, this place keeps you on a level playing field. I look forward to coming here."
Staff nurse Carole Hildreth, who has worked at the Hospice for 14 years, said: "It's been a long journey for Malcolm but I have seen a huge change – he's now looking forward to life and making plans for the future."
"Without The South Buckinghamshire Community Hospice and what they have helped me with, I do wonder if I would still be here."